Summer is here already and it's only the 3rd week in May!
The weather's all nice and warm in London after the last rainfall two weeks ago. The sun rises at 5am and sets at 10pm now; its been longer days and shorter nights. Some kids do not bother wearing a jumper over their summer school uniform and some people are already going about wearing shorts, tank tops, tshirts, sandals and flip flops. Icecream and icelollies are now in constant demand
Summer time in the United Kingdom is fun time for visitors.
If you will be or plan to to be in London this Summer, below is a list of places you can visit, for free, as part of your summer fun:
1. The Queen Elizabeth Olympic Park
2. Diana Princess of Wales Memorial Playground
3. Golder's Hill Park
4. Wimbledon Common
5. British Museum
6. Royal Academy of Arts
7. Crystal Palace Dinosaurs
8. Regent's Canal Path
9. Changing of the Guard
10. Clapham Common
11. Duke's Meadow
12. Brockwell Park
There is so much to see and do in London at Summer time, the above listed is just a teeny-weeny fraction from the lot.
We go beyond facilitating your visa application to the United Kingdom at Approved Entry, to providing tourist experiences tailored to your preferences and your budget to make your holiday truly memorable.
The British Museum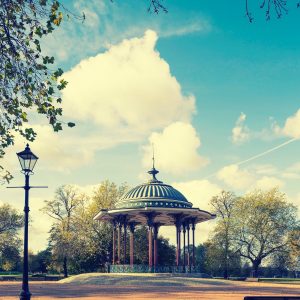 The Bandstand at Clapham Common