[vc_row][vc_column width="1/4″][/vc_column][vc_column width="1/2″][vc_empty_space height="10″][vc_column_text css_animation="fadeIn"]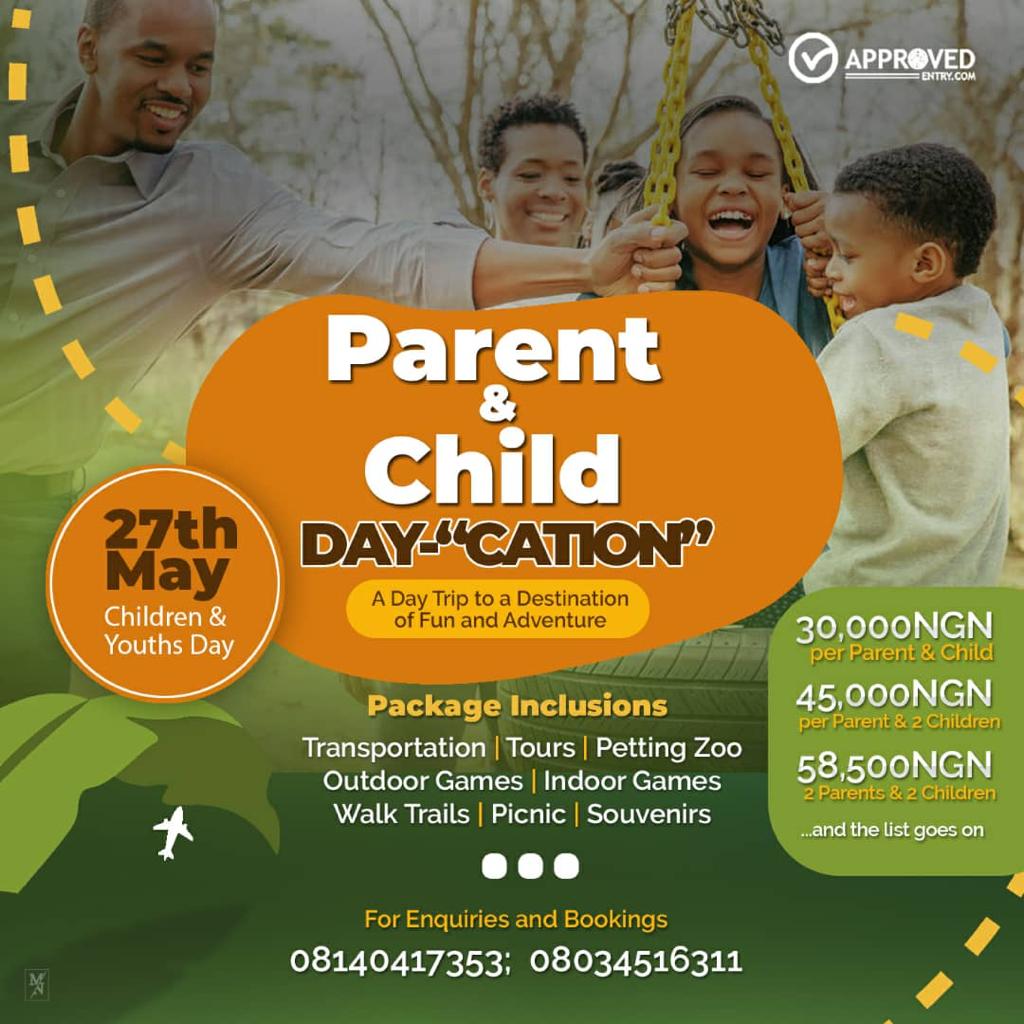 PARENT & CHILD DAY-CATION
On the 27th of May – Children's Day, Approved Entry is taking Parents and their children on a DAY TRIP to a destination of fun & adventure.
It will be a great time to spend doing stuff you may not do on a regular day with your kids, alongside other parents and their kids.
INCLUSIONS
Transport
Parents and children will be convened to the destination and back in a comfy and cozy bus that's air-conditioned with blinds.
Destination (Entry fee)
Almat Farms is an agricultural, hospitality, and recreational facility located in Kuje, a suburb of The Federal Capital Territory.
Tours
Include an educational tour of the greenhouses where fresh vegetables are produced and a tour of the traditional African-style amenities in the facility.
Games
Include Indoor and outdoor games like snooker, table soccer, darts, table tennis, beach volleyball, board games, and lots more.
Picnic
Lunch will be a variety of foods served in the picnic area of the farm.
Petting Zoo
The farm is home to a variety of animals like tortoises, alligators, rabbits, monkeys, ostriches, horses, deer, camels, etc.
Walk trails
To sightsee and explore the large expanse of land on which the farm sits.
Souvenir
A keepsake to commemorate the day's visit.
COST
Call 08140417253; 08034516311
to book a spot for
1 parent & 1 child @ N30,000
1 Parent & 2 Children @ N45,000
2 Parents & 2 Children @ N58,500
2 Parents & 3 Children @ N73,000
…and so on.
The more the merrier
OTHER ACTIVITIES
These are also available on-site for an additional cost
– Polo
– Quad bike ride
– Horse back ride
– Pony ride
– Camel ride
– Ranger drive
– Archery
– Basket ball
– Foot ball
– Lawn tennis
– Canoe ride
Give your children A Day to Remember.
Let's do this.
You can send a Guardian or Nanny along if you absolutely can't be there.
The numbers to call to book a spot are
08140417253; 08034516311
Bookings end on the 24th of May.
[/vc_column_text][/vc_column][vc_column width="1/4″][/vc_column][/vc_row]