It is utterly exhilarating to know that with just one visa you can visit 26 countries. I mean, it makes the whole hassle of the visa application process worth it. You may be lost for choice as to which of these counties to visit, if your purpose is not definite, because with your 30, 60, 90 or 180 days visa you can enter any or every county in the Schengen region including:
Austria

Belgium

The Czech Republic

Denmark

Estonia

Finland

France

Germany

Greece

Hungary

Iceland

Italy

Latvia

Liechtenstein

Lithuania

Luxembourg

Malta

The Netherlands

Norway

Poland

Portugal

Slovakia

Slovenia

Spain

Sweden

Switzerland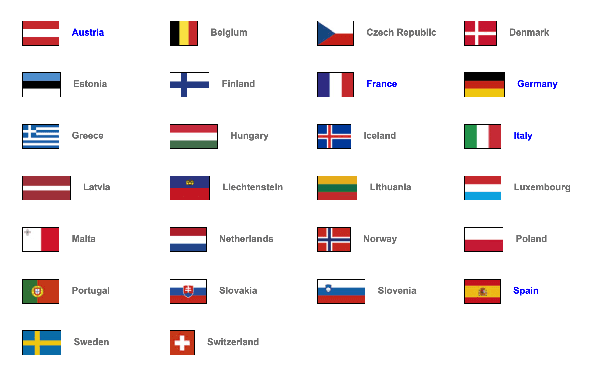 The question now is which country should you enter first as you have successfully secured a visa to the Schengen region. The answer to this question is simple but crucial because getting a Schengen visa is one thing, using it as instructed by the rules is another.
Your port of entry should be the country that issued the visa to you. Whether that is not the country you actually planned to visit, or whether you had a change of plan that affected your decision does not apply. If your Schengen visa was issued at the Italian embassy, for instance, then your first destination should be Italy. This is especially important if you are using the visa for the first time, that is in a case where you are issued a multi entry visa.
So, to avoid facing issues at the border, do not enter the Schengen area through any country other than the one which issued your visa. For example, if you are issued a Schengen visa from the Polish embassy but decide to enter from Sweden, you may be stopped at the Swedish border for not having a Polish stamp of entry. Thus, if you do not have the stamp of the first point of entry, which is the country that issued your visa, in your passport, the border authorities might not allow you to enter another Schengen country.
The bottomline is, If you plan to visit multiple Schengen countries, you should apply for a visa at the embassy or consulate of the Schengen country you plan to visit first. It really doesn't matter how long you stay in the first destination, just ensure that you are stamped in from there, then you can freely visit other countries in the area and stay as long as you want.
Cheers to your travel dreams come true.
IMPORTANT DISCLAIMER
Visa requirements change constantly but we make every effort to keep the information accurate and up to date. We provide links to official sources wherever necessary, so you can conduct your own due diligence to verify the visa requirements before you begin the application process or set out to visit any country. We shall not be held liable for any damages incurred as a result of using the information in this article.